Neck Sprains & Strains with Your Midtown New York Chiropractor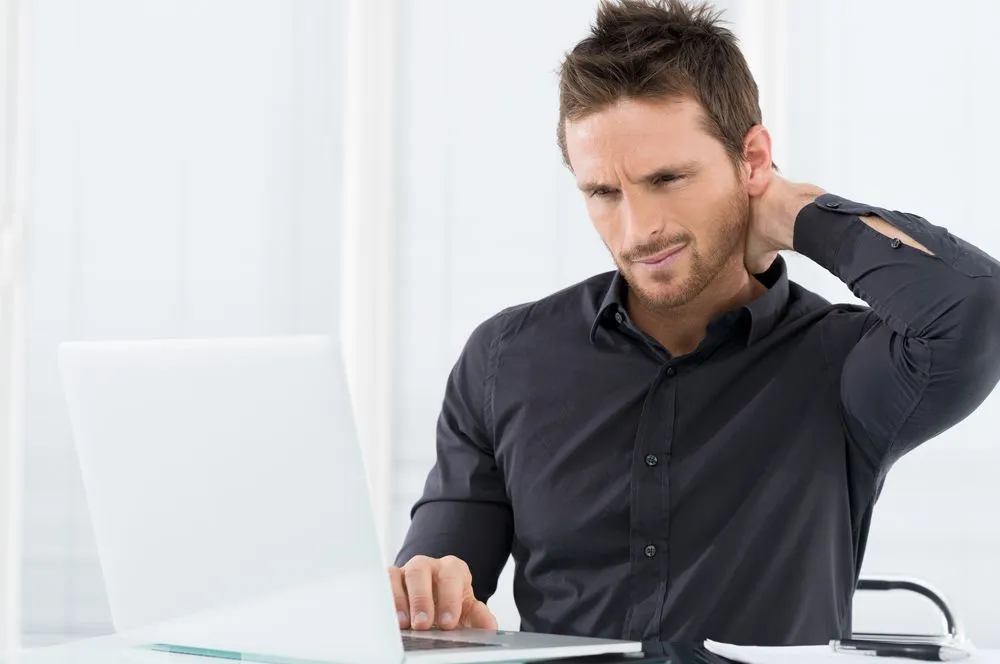 Neck sprains and strains can cause pain every time an injured person moves. Not only do these injuries decrease one's range of motion, they can also negatively affect the injured person's ability to focus, and to function optimally at home or on the job.
Neck sprains and strains can result in a debilitating pain that can make it difficult to turn the head, or to find a position that is comfortable to sit in for an extended period of time. They can also result in sleepless nights of tossing and turning in pain.
Causes of Neck Sprains and Strains
Because of the vulnerability of the neck's location, neck sprains and strains can happen easier than one might expect. These types of injuries can be caused by different types of accidents, such as automobile accidents, or slipping on ice. They can occur as the result of working for long periods of time in front of a computer without proper seating, or by lifting something heavy that puts strain on the back or neck. The pain can range from mild to severe, and can even be caused by poor posture, or from sleeping in an awkward position at night.
Why Use Chiropractors?
More patients than ever are turning to chiropractors for pain relief. However, regardless of its popularity, some misconceptions still exist about chiropractic care. For instance, many people do not realize that chiropractors undergo rigorous training as do traditional medical doctors, and often with additional advanced nutritional education.
Chiropractic care provides fast pain relief using non-evasive means, such as gentle spinal adjustments, dietary changes, and specific physical therapies that can target the problem area and bring about fast positive changes without harmful drugs or surgery. A chiropractor tends to take a more holistic approach to therapeutic treatments, one that addresses the overall body. The effects of chiropractic care can have far-reaching positive implications for the general overall health of the patient, including greater stores of natural energy, and decreased feelings of depression, in some cases.
Rockefeller Health Medical Midtown at Rockefeller Center
If you are looking for chiropractors in Midtown, near Rockefeller Center, Dr. Anthony Conte can help. Patients who live in the NYC area codes, 10022, 10017, 10020, 10036, and 10019, are within close proximity to Rockefeller Health Medical and can access fast, affordable chiropractic care from Doctor Conte. Dr. Conte specializes in the following treatments:
Manipulative Chiropractic Therapy
Sports Medicine
Therapeutic Massage
Physical Therapy
Acupuncture
Schedule an Appointment with Your Manhattan Chiropractor Today
We are located at 22 West 48th Street, Suite 705, New York, New York, 10036. Please call (212)-388-5050 to schedule an appointment with Dr. Anthony Conte, BS, DC. Read our glowing reviews on Yelp and Google+. Immediate appointments are available.